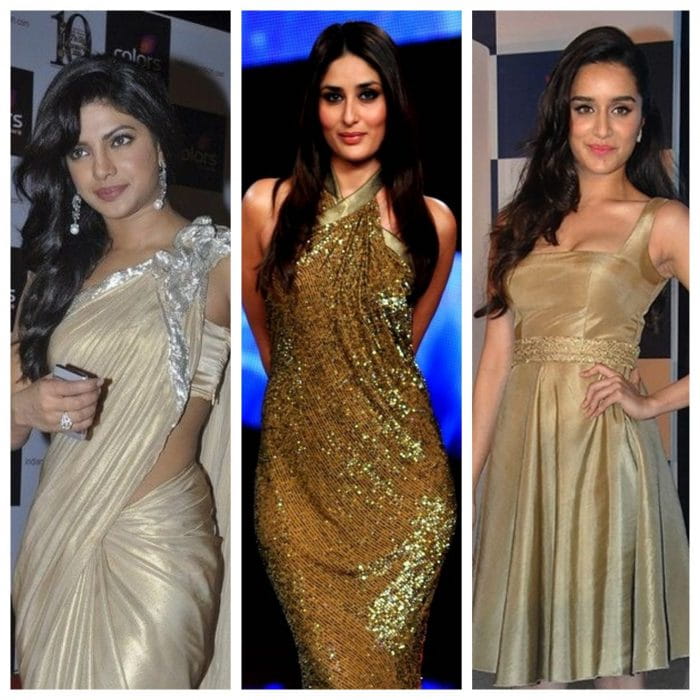 Wear Golden Dress, Gown and Saree Like Bollywood Actresses (Bollywood Actresses In Golden Dress)
You can also get a celebrity look by wearing a golden dress like Bollywood actresses. These beautiful Bollywood actresses know how to get a gorgeous look in a golden dress. If you have to go to a special function, but you are confused about which color to wear, then wear a golden dress like these Bollywood actresses. Golden color is never outdated and always gives a royal look.
1) Golden color gown, dress, saree etc. are the best option for evening party.
2) For a sexy look, you can try sheer dresses of golden color.
3) Delicate embroidery looks very beautiful on sheer golden dresses.
Also read: Kareena Kapoor Style Salwar-Kameez (Kareena Kapoor Style Best Salwar-Kameez, Patiala Salwar, Palazzo)
Kareena Kapoor Khan
4) Like Kareena Kapoor, you can also wear golden gown, palazzo, shirt, dress, saree etc. for evening party.
5) Use tissue, brocade, net, jersey, lace, rich synthetic fabric for golden outfits.
6) For a young, trendy, glamorous look, cocktail wear like golden gown, jumpsuit, dress, shirt, jacket, cigarette pants, leggings, bolero etc. can be tried.
Shraddha Kapoor
7) To give a trendy look to the golden outfit, like Shraddha Kapoor, wear stylish belts, chunky jewelery etc. with it.
8) Wear stilettos (pencil heel sandals), wedges, platform heels with golden outfits.
Read also:

5 Bollywood Actresses With Beautiful Eyes Are Very Beautiful
Priyanka Chopra
9) If you want to wear a traditional outfit in the party, then like Priyanka Chopra, a golden sari is the best option for you. Wearing this you will look different and special.
10) Traditional golden gown is also a good option, you can also try it.